Here is a DIY project that takes less than an hour from start to finish. I made some of these as Christmas gifts last year, and really enjoyed being able to make a variety of designs. Here's what you'll need: a scarf (I bought mine at the dollar store), some felt scraps, buttons, needle and thread.
Cut out felt in the shape of your design. I decided to make cupcakes. Sew the felt onto the scarf, using any stitch you like. Add a button as a cherry and you're done! The cupcake scarf works well for Christmas, or for fall or winter birthdays. I added a cupcake scarf to a homemade cupcake gift bag along with a bottle of (you guessed it) Cupcake wine, and an actual cupcake. It was really fun thinking of all the ways I could include cupcakes in the themed birthday gift.
For people who live in snowy, cold parts of the country, a scarf with a happy sunshine is the perfect Christmas gift to keep them cozy until spring comes back. The possibilities for these scarves are endless! This is a simple way to give a handmade gift to someone you love, or create a unique scarf for yourself.
Linking up to: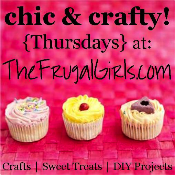 You might like:
Subscribe via Email

Popular Posts