I came across this piece of vintage ribbon a few days ago in my basement. I bought a few lengths of this in various colors (all blues and grays) several years ago and have been carefully using it over the years for projects or very special gift wrapping. Do you ever buy something and love it so much that you don't want to use it up? That's how I've been with this ribbon. I'm trying not to do that anymore. If I love it so much I should be using it to make myself or someone else happy, right? So I decided to make a headband out of one of the last pieces of the lovely ribbon.
Here's what I used: the black headband out of this pack of headbands from Target, this piece of amazingly beautiful ribbon, and a vintage button.
All I did was layer the ribbon like ribbon candy, except more loose. I specifically wanted it to look like it did in the drawer, wrinkled and kind of disheveled, like a messy bun.
Once it looked the way I wanted it to look, I sewed the button to the top, making sure the needle went through all the layers. That's what holds the whole thing in place, so I made quite a few passes through the layers of ribbon and the button. Then I sewed the messy bun to the headband, choosing to sew it to the seam, so that the flower part of the headband can be worn on either side without worrying about the seam showing.
I'm happy with the way it turned out. I'm also happy that I will get to enjoy the ribbon more often now, although probably on my daughter, as it seems the headband never made it back to my room after the photo shoot.
What can you make from the hidden treasures in your house?
Linking up to: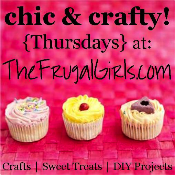 Show and Tell Saturday @ Be Different Act Normal
You might like:
Subscribe via Email

Popular Posts